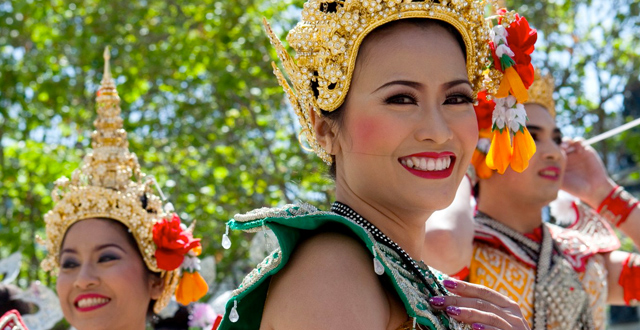 Published article on Diversity Magazine Website by Kimberly Ihekwoaba
Calgary: The history of Asians in Canada and their contributions were celebrated at The Genesis Centre on Saturday, May 27, 2017. The Asian Heritage Foundation shared the rich Asian cultures in Calgary in the month of May, dubbed the Asian Heritage Month.
Performances included Jing Wo Cultural Association, Madhuban Performing Arts, Dashmesh Cultural Centre, Mo Fan Tai Chi and Wushu Academy, University of Calgary Filipino Students' Association and Troo Knot Korean Hip Hop.
Teresa Woo-Paw, Founder of the Asian Heritage Foundation, started the initiative in 2001. "The objective was to raise awareness on the participation and contribution of Asian Canadians," Woo-Paw said. Additionally, it permits dialogues on issues and barriers common among Asian Canadians. Previous years involved collaboration with Asian Canadian writers, filmmakers, comedians, artist, Calgary Philharmonic Orchestra and Calgary Public Library. Future generations are inspired to participate in upcoming opportunities as Asians living in Canada.
Ric McIver, MLA of Calgary-Hays, commented on the value of the event; "A place for the community to come together and celebrate pieces of Asian Heritage in Calgary." He further stated that communities can work together and interact with each other by sharing food, culture and music. Caricature Artist and Art Instructor, Janey Luc-German, shared her passion for sketching and the arts. Being part of the celebration allowed exposure to performance arts in other cultures.
Asian influence in Calgary can be explored in the Find the Canasian in you bus tour. Destinations like the Hindu Temple, Korean Village, Japanese Cultural Centre, and Filipino Culture Centre portrays the beauty of Multiculturalism in Canada. Asian culture is even mirrored in daily activities, for example, using chopsticks with meals, popular Asian dishes, and entertainment. Coordinator with Asian Heritage Foundation, Lourdes Juan, expressed the importance of celebrating Asian Heritage Month. "To showcase the diversity in Calgary and show unique cultural performances during the month of May." Her outlook on next year is to have a larger audience and attract more communities.